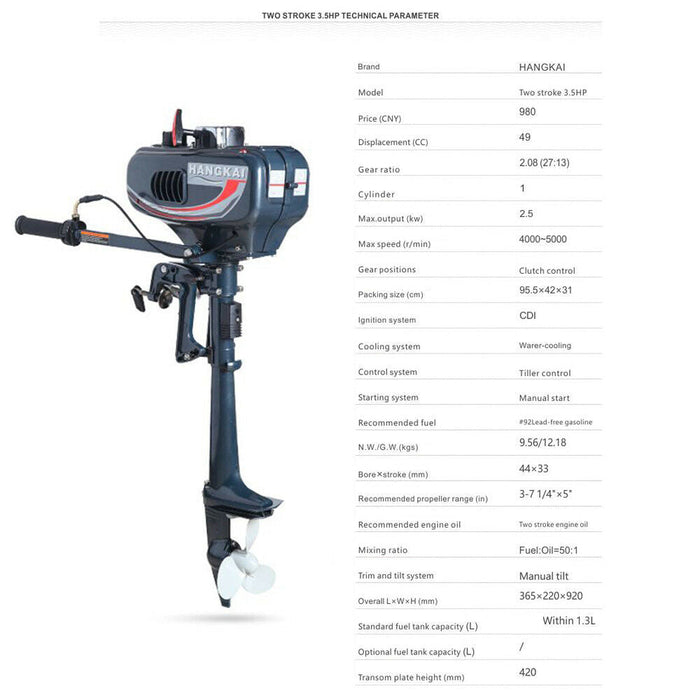 2 Stroke 3.5 HP Outboard Boat Engine Motor
Save

$0.00
Save

$-399.97
Original price
$399.97
-
Original price
$399.97
✔︎ Free 2-4 day shipping
✔︎ 24/7 customer support
✔︎ Free & easy returns
✔︎ Ships next day from our USA warehouse
Equip your boat with our heavy-duty outboard motor to quickly and easily navigate big bodies of water. The tiny boat motor, which has a 3.5 HP engine, is powerful enough to transport up to four persons.
Furthermore, the powerful propeller on our premium boat engine allows your boat to travel at a top speed of up to 8 miles per hour. The little outboard motor's adaptable design makes it ideal for inflatable boats, fishing boats, sailboats, and small yachts.
Despite its adaptability, the outboard boat motor has a small footprint that won't add too much weight to your boat. This way, you won't have to worry about overcrowding your boat with people and gear.
Best of all, the 3.5 hp outboard motor is simple to start and maneuver for both novice and experienced boaters. Power up your boat with this heavy-duty 2 strokes outboard engine and cruise safely across calm and rough waters.
FEATURES:
QUICK START: With a convenient starting rope, the little outboard motor starts up in a matter of seconds. Not only that but the two-stroke boat motor may be turned off with a single button press.
LIGHTWEIGHT: Due to its lightweight construction, the fishing boat motor does not add a considerable amount of weight to the overall structure of the boat. This allows you to utilize the outboard motor on any type of boat, including wood, metal, and plastic.
HEAVY-DUTY: Despite its small size, the boat motor is powerful enough to transport a boat with up to four passengers. Its powerful motor can turn up to 5,000 times per minute, allowing for a fast boat trip.
SPECIFICATIONS:
Overall length: 36.2in
Overall width: 14.3in
Overall height: 8.6in
Transom height: 16.5in
Full throttle operating range:4000-5000r/min
Maximum output: 2.5kw(3.5HP)
Speed: 8.07 mi/h
Type: 2-stroke
Ignition system: CDI system
Starting system: Manual start
Staring carburetion system: Choke start
Propeller mark: 7-1/45-A(inch)
The engine and the propeller ratio:2:1
Recommended fuel: Regular unleaded gasoline
Fuel to oil ratio: 25:1 The gasoline engine must use mixed fuel with a volume rate of 25:1 for No.90 gasoline to two‐stroke automobile oil. Mix and add to the tank)
Gear ratio: 27/13
Built-in fuel tank: 0.31 gal
Fuel consumption per hour: 0.39 gal
PACKAGE CONTENT:
1x Small Boat Motor