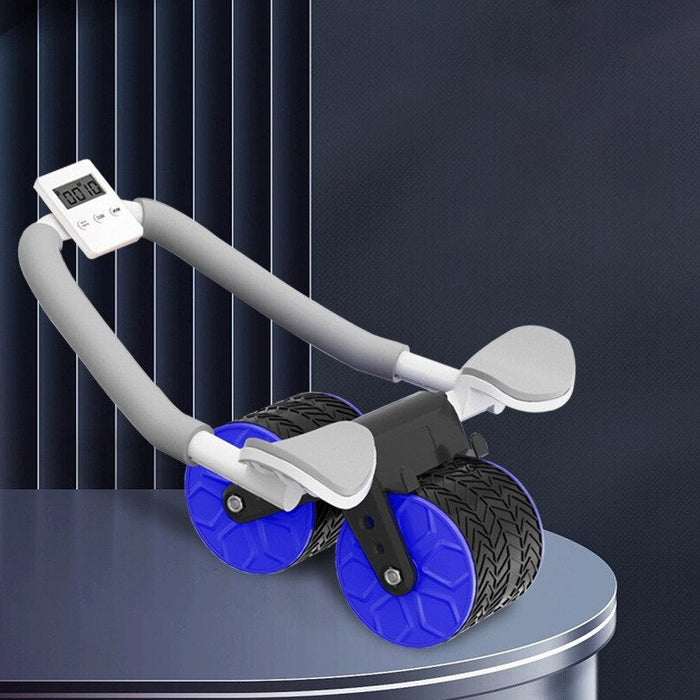 Automatic Rebound Elbow Roller With Timer
Save

$25.01
Save

$25.01
Original price
$65.00
-
Original price
$65.00
✔︎ Free 2-4 day shipping
✔︎ 24/7 customer support
✔︎ Free & easy returns
✔︎ Ships next day from our USA warehouse
Sculpt Your Abs Without Discomfort
The Automatic Rebound Elbow Roller Abdominal Strengthening Wheel Apparatus is Here—it's Your Ultimate Fitness Roller for Core Strengthening and Slimming!
With the help of our ground-breaking Automatic Rebound Elbow Roller, you may reach your fitness goals more quickly and efficiently. This state-of-the-art exercise gear is made to be your ideal workout partner and was created specifically to help you sculpt and tone your abdominal muscles, reduce belly fat, and improve your overall level of fitness.


Key Features:

1. Automatic Rebound Technology: Our cutting-edge elbow roller has an automatic rebound system that continuously providing resistance throughout each exercise. This special function makes sure you keep a regulated, precise movement, optimising your abdominal exercises for the best results.
. Abdominal Strengthening: Ditch the impractical and ineffective standard ab exercises. You can carry out a variety of productive exercises that specifically target your core muscles with our equipment. It has never been as effective or enjoyable to build your abs!
3. Comfy Elbow Support: We know how important it is to feel comfortable when exercising, which is why our roller has padded elbow support. This makes sure everything fits snugly and lessens the stress on your elbows so you can concentrate solely on your core exercises.
4. Adjustable Difficulty Levels: This equipment is made to accommodate all fitness levels, whether you're a novice or an experienced fitness lover. To ensure a tough and safe workout, the resistance levels are easily adjustable to fit your existing skills.
5. Portable and Convenient: Because our exercise roller is portable and light, it is simple to transport and store. You may carry on your fitness journey anywhere you choose, whether it be at home, in the gym, or while on the go.
6. Long-Lasting Design: To assure the lifetime and durability of our apparatus, we used premium-quality materials in its construction. It can withstand even the toughest workouts, giving you a trustworthy fitness partner for years to come.
7. Multipurpose Use: The Automatic Rebound Elbow Roller can be used for a variety of arm, shoulder, and back exercises in addition to ab exercises. It is a flexible piece of exercise gear that can meet all of your needs.
With our Automatic Rebound Elbow Roller Abdominal Strengthening Wheel Apparatus, update your training regimen and take the first step towards obtaining your ideal body. Accept the challenge of becoming a better, more fit version of yourself, and let this cutting-edge fitness roller be your dependable travel buddy.

Package Includes:

1 X Abdominal Wheel
1 X Timer
Shipping Policy:
We offer free expedited shipping on all our products! Your order will be sent to you within 24 hours of being placed from our US-based warehouse. Once your product has been dispatched, you will receive tracking information through email. Shipping will take between 2-4 days.
Our Promise:
All of our products come with a 30-day money-back guarantee. If you are dissatisfied with your goods, we will make it right! Our items also come with a 2-year free breakdown warranty.