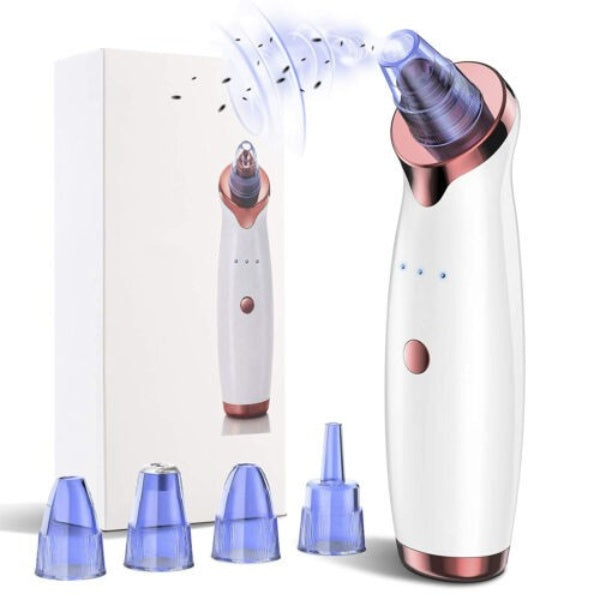 Blackhead Remover Vacuum - Best Blackhead Remover
Save

$40.03
Save

$40.03
Original price
$70.00
-
Original price
$70.00
✔︎ Free 2-4 day shipping
✔︎ 24/7 customer support
✔︎ Free & easy returns
✔︎ Ships next day from our USA warehouse
Want to keep your face young-looking and healthy?
Are you sick of using the traditional methods to remove pores and blackheads, which can take up to an hour every session?
Well! We have the ideal tool for your requirements! The vacuum for blackhead removal!
Now you can quickly and painlessly remove pores and blackheads from your skin without harming it in less than ten minutes.
Even better, we included four different usage heads for various types of blackheads and pores.
You have:
The big circle hole head
Small circle hole head
Oval hole head
The diamond head that add up to a distinct way of removing blackheads quickly.
THE #1 RECOMMENDED Blackhead Remover Pore Vacuum! 
Your face is one of the most delicate parts of your body, and we make sure that you can treat it properly with our three different suction levels and various vacuum head sizes that come with the Blackhead Remover Vacuum! 
BENEFITS
Even out the skin tone
Minimize the size of the pores
Clear up blackheads and whiteheads
Improve skin texture, tone and elasticity
Helps improve absorption of skin-care products
Minimize the appearance of mild stretch marks
Reduce the appearance of fine lines and wrinkles
Reduce the appearance of skin spots caused by sun and age
Minimize the appearance of acne scars and superficial scarring
Helps boosting collagen production to provide firming and toning to the skin complexion
Improve the appearance
RECEIVE OUR LIMITED EDITION DIAMOND EXFOLIATING HEAD FOR FREE WITH YOUR ORDER TODAY ONLY!
HOW TO USE

1- Charge the device for at least 8 hours for first time use then you can charge it for 2 hours (Battery life is 1-2 weeks per charge)

2- For an effective pore removal, place a hot towel on your face for 5 minutes to open up (Ease) pores/blackheads prior to usage, Or simply purchase our face steamer product which works as a companion product to this blackhead vacuum.

3- Choose which suction head you would like to use
3- Press and hold the power button for 3 seconds to turn the Pore Vacuum on
4- Press one time on the power button to change the suction levels

5- Gently move the device slowly along the skin, working your way through the entire face.
Note: Do not leave the suction head on one spot for more than 3 seconds to avoid skin bruising.
Frequently Asked Questions
How long does the battery last after it has been charged?
It can last up to 2 hours of consistent usage.
Is it rechargeable?
Yes, The Blackhead Remover comes with a USB cable for recharging.
Is the Blackhead Remover Vacuum suitable for all type of skin?
Yes, The Pore Vacuum is suitable for all types of skin. Once a week for dry skin or sensitive skin, twice for oily skin/ mixed skin.
I have been having a lot of blackheads on my face, does this Blackhead Remover Vacuum works effectively?
Yes, the Blackhead Remover Vacuum works effectively to remove your blackheads, pimples, and pores.
Is it waterproof?
This blackhead remover vacuum is not waterproof, you need to take down the beauty heads and clean it alone, leave the machine away from the water
Shipping Specifics:
We offer free shipping on all our products! Your order will be mailed to you within 24 hours of being placed from our US-based warehouse. Once your product has been dispatched, you will receive tracking information through email. Shipping will take between 2-4 days.
Our Promise:
All of our products come with a 30-day money-back guarantee. If you are dissatisfied with your goods, we will make it right! Our items also come with a 2-year free breakdown warranty.