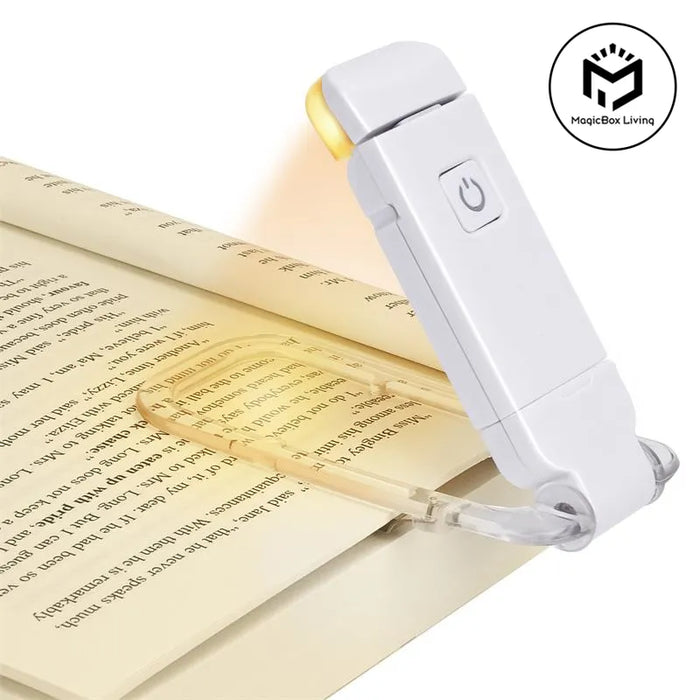 Book Reading Light
Save

$10.00
Save

$10.00
Original price
$29.95
-
Original price
$29.95
✔︎ Free 2-4 day shipping
✔︎ 24/7 customer support
✔︎ Free & easy returns
✔︎ Ships next day from our USA warehouse
Introducing the Book Reading Light - Illuminate Your Literary Adventures with Unmatched Comfort and Precision!

Embark on a journey of reading, learning, and imagination with our Book Reading Light. This remarkable accessory isn't just a light; it's a portal to a world where the written word comes alive with unparalleled clarity and warmth.


Crafted with meticulous attention to detail and designed for the avid reader, the Book Reading Light is a testament to the marriage of form and function. It doesn't just illuminate your books; it enhances your reading experience, whether it's a gripping novel, a textbook, or a treasured classic.

What sets our Book Reading Light apart is its commitment to your comfort. The adjustable neck allows you to position the light exactly where you need it, preventing eyestrain and providing you with the perfect reading angle. Say goodbye to awkward shadows and uneven lighting; this light ensures that every word on the page is crystal clear.

But the magic doesn't stop there. The Book Reading Light is designed for versatility. With multiple lighting modes, you can customize the brightness to suit your environment and mood. Whether you're reading in bed, on a dimly lit plane, or in a cozy corner of your home, this light adapts to your needs.


This accessory isn't just about function; it's about style. The sleek, modern design complements your reading space, adding a touch of sophistication. It's a statement piece that enhances your décor while serving as a practical tool for your literary adventures.

Imagine the possibilities. Dive into the pages of your favorite book, lost in the world of words, while the Book Reading Light casts a warm, inviting glow over the text. Immerse yourself in stories, knowledge, and imagination, knowing that your reading experience is optimized for comfort and clarity.

Experience the joy of reading with the Book Reading Light. It's not just a light; it's an invitation to explore, learn, and escape into the world of literature. It empowers you to read whenever and wherever you desire, without limitations.


Elevate your reading ritual with the Book Reading Light. It's not just an accessory; it's a journey to literary enlightenment. Let your books come to life with the precision and comfort of this exceptional light, and let your reading adventures be marked by moments of clarity and joy. Illuminate your world of books today!
Features:
Flexible Book Light The LED lens can be swiveled 90°counter-clockwise and clockwise, and 45°downward; 315°flexible holder bends to any angle for your best viewing. No need constantly repositioning the light
USB Rechargeable No additional cables or batteries needed, directly plug it into a computer, power bank, adapter, car charger, or USB outlet for recharging. About 1.5 hours for fully charging and will last about 8 hours (at brightest setting)
2 Brightness Levels 3000K Warm White, LED light can be adjusted 2 brightness levels (100%, 50%) by the button; Eye-care soft glow creates a private reading space for you without disturbing others
Lightweight & Portable 1.38 ounce, small and lightweight, ideal for clipping on a book when nighttime reading; can be completely folded flat and slim, portable for reading on airplane, train, or backseat of car when travelling
Shipping Policy:
We offer free expedited shipping on all our products! Your order will be sent to you within 24 hours of being placed from our US-based warehouse. Once your product has been dispatched, you will receive tracking information through email. Shipping will take between 2-4 days.
Our Promise:
All of our products come with a 30-day money-back guarantee. If you are dissatisfied with your goods, we will make it right! Our items also come with a 2-year free breakdown warranty.