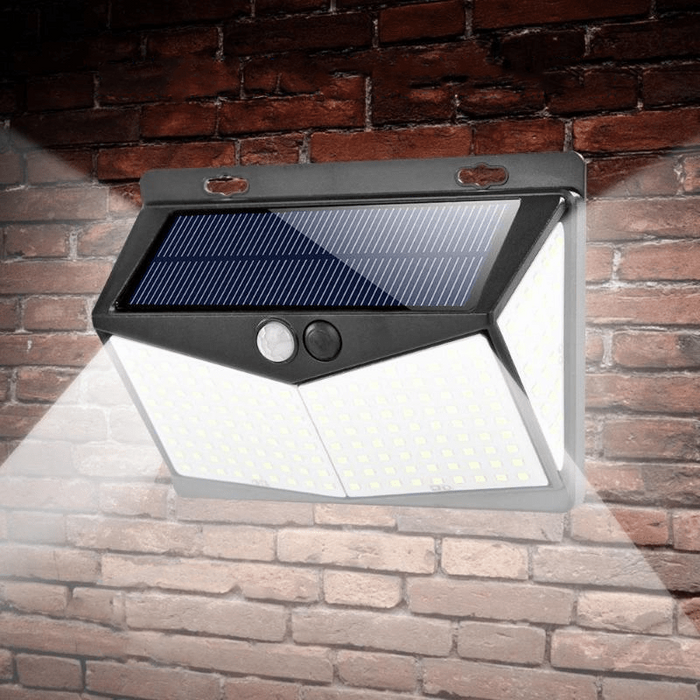 Outdoor Solar Light
Save

$26.03
Save

$26.03
Original price
$50.00
-
Original price
$50.00
✔︎ Free 2-4 day shipping
✔︎ 24/7 customer support
✔︎ Free & easy returns
✔︎ Ships next day from our USA warehouse
Light Up & Secure Your Property: By lighting up the shadowy places around your property, you may improve security and relax in peace. All outside spaces, such as your garden, porch, patio, driveway, deck, sidewalk, yard, side of the house, fences, etc., are suitable.
Simple Installation: There are no cables, wires, or tension. With the provided screws, you can easily place the LED garden solar lights on any flat surface. A screwdriver is all you require.
3 Modes Of Operation: You can choose between three different modes of operation for the lights: always on, low light, and full brightness with motion detection (dim light). Whichever option you select, the light won't turn on until it detects low light
All Weather Design: The device has an all-weather design that makes it heat-, frost-, and waterproof. It can be used in any climate (the unit needs at least 3-4 hours of sunlight during the day to charge up)
Highly Sensitive Motion Detection: Highly Sensitive Motion Detection: Modern infrared sensors detect even the smallest movement within a 16-foot range, instantly turning on the lights.
Low Cost, Energy Efficient Lighting: Low-cost, energy-efficient lighting: These outdoor lights are the most economical lighting option on the market because they are powered by environmentally friendly solar. On a full charge, you can anticipate 5-8 hours of continuous operation. Once you've paid for them, operating them won't cost you any more money.
FAQ
What settings are available?
There are 3 modes of operation:
Always On: The light is on at all times with a dim setting
Always On With Motion Detection: The light is on at all times with a dim setting. When motion is detected, the light instantly switches to full brightness
Motion Detection: The light is off, when motion is detected the light instantly switches to full brightness
Will it detect small objects like animals or just people?
Yes. The infrared detection is very sensitive so it'll pick up movement within 16 ft regardless if it's an animal or a person.
Will it operate in all weather conditions?
Yes. The unit is waterproof, frost proof and heat resistant making it the perfect choice regardless of the climate in your area. The only consideration in the winter months is of course sunlight, without it there is nothing to charge the lights during the day
How fast does it turn on when motion is detected?
There is no delay when motion is detected, the light will turn on instantly
Is it easy to install?
Absolutely. There are no wires to worry about, the unit simply needs to be screwed to a flat surface. Which makes this ideal for anyone to use and install themselves
How far away does the sensor pick up motion
The motion sensor has a 120 degree sensing angle and will pick up movement up to 16.5ft (5m) away
How long does the light last for?
The LED lights have a lifespan of around 5,000 hours
Specifications
Size: 155mm x 110mm x 55mm (6.11" x 4.34" x 2.17")
Weight: 270g / 0.5lb
Solar Panel Power: 5.5V
Number of LED: 208LED
Lumen: 800
Color temperature: 6000-6500K
Charging time: > 8 hours
Light Color: White
Package Includes
1x Solar Flood Light, 1 x Installation Package, 1 x Instruction Manual
Shipping Specifics:
We offer free shipping on all our products! Your order will be mailed to you within 24 hours of being placed from our US-based warehouse. Once your product has been dispatched, you will receive tracking information through email. Shipping will take between 2-4 days.
Our Promise:
All of our products come with a 30-day money-back guarantee. If you are dissatisfied with your goods, we will make it right! Our items also come with a 2-year free breakdown warranty.