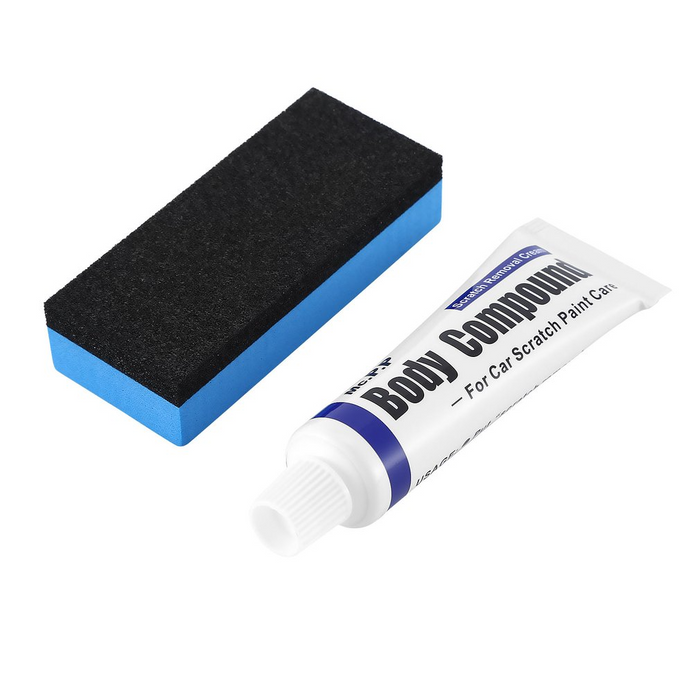 Polishing Car Paste Car Wax Styling Car Body Grinding Compound Set Scratch
Save

$9.04
Save

$9.04
Original price
$18.99
-
Original price
$18.99
✔︎ Free 2-4 day shipping
✔︎ 24/7 customer support
✔︎ Free & easy returns
✔︎ Ships next day from our USA warehouse
Are you looking for that alluring glimmer that draws attention on the road? The Car Wax Styling Car Body Grinding Compound MC308 Paste Set is your key to revealing a brilliant shine that completely transforms the look of your car. This extraordinary paste package, which was created to meet all of your automobile paint care needs, is your best option for keeping your car looking elegant.

Imagine a paste set that effectively handles small dings, sticks to tough stains like glue and tar, and produces a polished finish that turns your car into a work of beauty. Your one-stop solution is our Car Wax Styling Car Body Grinding Compound MC308 Paste Set.

Our MC308 Paste Set, which is engineered to perfection, takes the guesswork out of maintaining automotive paint. Check for lightly scratched paint. Guano, asphalt, or those annoying glue stains? Check. It is perfectly designed to repair tiny scratches and remove unwanted marks. Use our store-up paint pen and spray irrigation to amp up the remedy for deeper scratches for unmatched results.

Beware of car colours: No matter what colour your car is, our paste set produces beautiful results. Its special formula welcomes all colours, easily improving the appeal of your vehicle. Our paste set ensures a colourful, attention-grabbing appearance that is difficult to ignore. It comes in shiny colours and classic tones.


Discover the Magic of Versatility: Our paste set has more than one use. Imagine switching from a paint cleaning to a care shampoo and a professional polisher without any trouble. This paste package, fittingly named "Paint Care," is made from premium paint material and is tested and approved for quality to ensure that your car's finish stays flawless.

Our paste set becomes an extension of your hand thanks to its convenient measurements, which include a 2.7-cm item width, a 15-g item weight, a 20-ml item volume, an 8.5-cm item length, a 1.5-cm item height, and a 2-inch item diameter. Because of its small size and ease of use, it is an essential part of your car maintenance regimen.

The Best Option for Auto Enthusiasts: Our automobile Wax Styling Car Body Grinding Compound MC308 Paste Set is the best choice if you're looking for a practical answer to your automobile paint care problems. Give your car the attention it deserves, and take pleasure in the beauty of a well-kept exterior.

Explore Brilliance More Deeply: Explore the universe of MC308 Paste Set's prowess. It sensitively fixes small paint flaws while protecting the structural integrity of your car. Say goodbye to dings and imperfections and say hello to a fresh shine that last.

Improve your car's appearance with the ground-breaking MC308 Car Wax Styling Car Body Grinding Compound Paste Set and experience the MC308 Difference. Embrace a car care solution that goes above and beyond expectations as we usher in the era of polished perfection.

Discover the trick to a flawless finish with our MC308 Paste Set as you "Unmask the Perfect Shine." It's the secret to an amazing shine because it's made to protect your car's paint and get rid of blemishes.

Elevate Your Car's Elegance: Use MC308 Car Wax Styling Car Body Grinding Compound to enhance your car's elegance. a paste package that makes your automobile shine like never before.

MC308 Paste Set: The Ideal Car Companion Make MC308 your trusty vehicle. Take on blemishes, stains, and defects with a trustworthy partner that ensures brightness.

Enhance Your Car's Charm: Use the MC308 Paste Set to reveal the full potential of your car's paint. For a long-lasting gloss, restore, polish, and protect.

Your Path to Car Brilliance: MC308 Paste Set With the MC308 Paste Set, set out on a quest for unparalleled brilliance. Enhance the appearance of your car and draw attention with its brilliance.

Experience Car Care Reimagined with MC308: Use the MC308 Paste Set to experience Car Care Reimagined. Your car deserves the best, including a spotless exterior that draws attention.

Perfect Your Craft with the MC308 Paste Set: The path to excellence is the MC308 Paste Set. Say good-bye to dings and hello to an eye-catching, polished car exterior.

The Art of Car Restoration: MC308 Paste Set With the artistry of the MC308 Paste Set, elevate your car maintenance routine. Make heads turn, shine, and restore.

MC308 Paste Set: Where Style and Efficiency Collide: With the MC308 Paste Set, experience the flawless fusion of elegance and effectiveness. Enhance the beauty of your car with ease.

Your Key to Lasting Car Beauty: MC308 Paste Set With the MC308 Paste Set, unlock lasting beauty. Accept a flawlessly polished vehicle's dazzling exterior.

Looking to give the paint on your automobile a fresh shine? Our Car Wax Styling Car Body Grinding Compound MC308 Paste Set is the only solution. All of your needs for automotive paint maintenance can be met with this amazing paste set. This paste package can help you whether you have minor scratches, difficult to remove materials like tar and glue, or you just want to give your car a thorough cleaning.

Our Car Wax Styling Car Body Grinding Compound MC308 Paste Set is intended to repair light paint scratches and remove stains like glue, asphalt, and bird droppings. But for more severe scratches, we advise utilising our store-up paint pen and spray irrigation because they work better.

Our paste's capacity to preserve all automotive colours makes it unique. This paste combination will do wonders to improve the appearance of any colour of car. It is a flexible option for any car owner because it can be used on all varieties of automotive paints.

Our paste set can be applied as a polisher, care wash, and paint cleaner. It has undergone quality testing and certification and is specifically intended for the care of paint. The model is simply referred to as "Paint Care," and it is constructed from premium paint.

The paste set has the following measurements: item width: 2.7 cm, item weight: 15 g, item volume: 20 ml, item length: 8.5 cm, item height: 1.5 cm, and item diameter: 2 inch. It is practical to use because it is small and simple to handle.

Our automobile Wax Styling Car Body Grinding Compound MC308 Paste Set is the ideal option for people looking for a dependable and efficient solution for their demands regarding automobile paint care. Give your car the attention it needs to have a shiny, clean appearance.

Use: To prevent car paint from scratching. based on the idea that minor paint surface blemishes should not be removed along with any form of difficult to remove attachments like tar and GLUE. DIY paint flaws in paint colour
Fix small paint scratches; this tool cannot be used to repair extensive scratches or paint droplets. Get rid of paint stains like glue, asphalt, and bird guano, etc.
Please use the store-up paint pen for serious scratches.
Wide range of applications—suitable for minor scratches and dings such nail dings on door handles, sand scratches, light scratches from paint scratches, paint swirls after polishing, etc.
The anti-scratch paste is safe for use on automotive paint because it won't chemically react with it.
Appropriate for all-color automobiles: No colours are picked up by the scratch repair kit for cars.
Quick and easy maintenance: To remove dirt, wax, and rust, simply remove the scratched area.
Features:
100% Brand new and high quality
No hurt to the paint surface when remove mild scratches in the paint
Can be used to remove all kinds of stubborn attachments such as tar, glue and DIY paint color paint defects etc.
Material: Slop Wax
Foam Dimensions: 7cm x 3cm x 1.5cm
Ingredients: abrasive materials, surface active agent, filling agent
Scope of application: automotive paint removal side of mild scratches
Package Contents:
1 X Abrasives
1 X Sponge
Use:

 

Paint Care Paint Cleaner Care Shampoo Polishes Painting Pens

Special Features:

 

Paint Care

Model Name:

 

Paint Care

Material Type:

 

paint

Item Width:

 

2.7cm

Item Weight:

 

15g

Item Volume:

 

20ml

Item Type:

 

Paint Cleaner

Item Length:

 

8.5cm

Item Height:

 

1.5cm

Item Diameter:

 

2inch

For Car:

 

Gloss Seal for Car Paints Paint Protective Foil Hard Wax

External Testing Certification:

 

CE

External Testing Certification:

 

CCC
Shipping Policy:
We offer free expedited shipping on all our products! Your order will be sent to you within 24 hours of being placed from our US-based warehouse. Once your product has been dispatched, you will receive tracking information through email. Shipping will take between 2-4 days.
Our Promise:
All of our products come with a 30-day money-back guarantee. If you are dissatisfied with your goods, we will make it right! Our items also come with a 2-year free breakdown warranty.